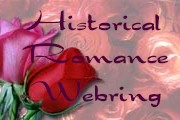 Homepage
This ring is designed to bring together authors and readers of historical romance novels. If you love historical romance as much as I do, and you have a website that is primarily dedicated to your love of this genre, then please sign up. All I ask is that you keep your page updated and that you let me know if your page is removed from its server.

Visit a random Historical Romance site


Join the Historical Romance Webring
Here are the steps that need to be followed. Please follow them closely to preserve the integrity of the ring!

STEP 1:
Add your site to the Historical Romance Webring queue. (Notice: Your page will be in the 'Queue' until I add you to the ring. This does not automatically insert you in the ring; the actual insertion is done later.)

STEP 2:
You'll recieve an e-mail that lists your site ID number. Write down your site ID number. Don't forget your ID number: you WILL need it to modify your info to remove yourself from the Historical Romance Webring



STEP 3:
Save a copy of the Historical Romance Webring graphic you see below.



You can capture the graphic with a right-mouse click from Netscape or Internet Explorer and use "Save As..." to save them.



STEP 4:
You will receive email shortly giving you the proper HTML code, complete with your Ring ID number. Copy and paste this code onto your html.
This is how it should look after you insert the graphic and the html code in your web page
E-mail me and ask me to add you to the ring. Be sure to include your Site ID Number in the e-mail message. NOTE: Please wait until you have your HTML working before writing me, as I will have to verify that your links are functioning before I add you!

Step 5:
After checking out your page, I will take your Site ID Number and use it to add you to the ring. You should then receive an e-mail telling you you've been added.


Step 6:
That's it! You should now be able to navigate the entire ring until to make it back to your own page (although it may take a while). An easy way to make sure it is working is to go to the homepage of the person who added you and see if the next button takes you to your own page.
---
Editing Your Site's Attributes
If you are already part of the Historical Romance Webring, and need to edit your site's attributes (URL, your e-mail address, site description, or password), enter your site ID and password below:
---
You can also join the Historical Romance Listserv for anyone interested in writing and researching historical romance novels!

Click to subscribe to historical_romance
---
Historical Romance Webring is part of the


---